Languag
e barriers used to be a problem in getting more efficient communication, but not anymore in this era. CMM as a language service provider exists to provide services for better communication across nations. This is the positive role that a language service provider can contribute, which is to increase cooperation between countries, thus allowing us to broaden the chance in supporting growth that can lead to positive impact for the country.
Apart from that, CMM as Small and Medium Enterprise (SME) plays a role in the economic sector. One of our roles is to support the government in providing jobs for those who have the skills. In addition, CMM also contributes to the education sector, which has the impact in improving the quality of human resources. Providing an internship program is one of the ways that CMM is taking to implement the role.
An internship is a real work experience in a company or organization that is offered for a short period of time. Through this program, interns will be given the chance to perceive and experience the work environment. Interns will spend their time to work on relevant projects, learn about the field, make industry connections, and develop both hard and soft skills. Sometimes, the internship program can even be an opportunity for companies to find new employee candidates.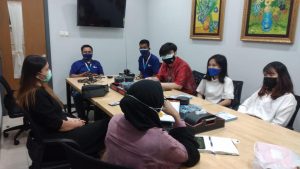 In collaboration with the Faculty of Social Sciences and Humanities – the English Language and Culture Study Program from Universitas Bunda Mulia (UBM), CMM is giving an opportunity for students to have the experience of internship. UBM is an educational institution under the auspices of the Bunda Mulia Education Foundation, which has been successfully active for 34 years in the field of education in Indonesia. With the tagline "Bridging Education to The Real World", one of UBM's mission is to produce ready-to-use graduates who have high competence and competitiveness in their respective scientific fields, which can be supported by an internship program. Apart from providing work experience, the internship program will also lead students to be better prepared before starting their career. We hope that through this collaboration, we can grow better together and contribute to education and the improvement of human resources in Indonesia.