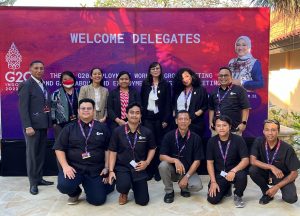 On the 12th of September 2022, The Ministry of Manpower of Indonesia hosted The 16th EWG and Labour and Employment Ministers' meeting in Bali, Indonesia which spans for 2 days until the 14th of September 2022. CMM is honored to be involved in the event as the language service provider.
This opportunity presents a chance for us to expand our collaboration with our local partner and professional interpreters for the successful organizer.
This is consistent with our vision to provide reliable language and conference solutions with constant improvement to performance and quality.